Webhelp TSC to create 400 call centre jobs in Scotland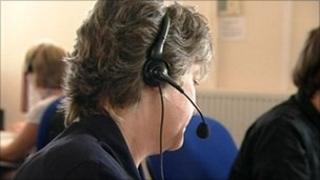 A French management services company has announced plans to create 400 new call centre jobs across the central belt of Scotland.
Webhelp TSC is setting up 294 new posts in Glasgow, 76 in Larbert and 30 in Kilmarnock over the next two years.
The move is designed to meet growing demand for services provided by its existing Scottish contact centres.
Earlier this year, Webhelp Group bought one of Scotland's biggest call centre employers, Larbert-based HEROtsc.
Webhelp also announced it had set up its own training academy to promote youth employment.
The 400 jobs will be recruited in a rolling programme.
A total of 50 new posts have already been filled by people aged between 18 and 24, with a further 350 staff to be recruited over the next two years.
The investment is being supported by a £1.5m Regional Selective Assistance grant from Scottish Development International.
'Fantastic news'
First Minister Alex Salmond described the announcement as "yet another example of Scotland's increasing success in attracting inward investment".
He added: "Four hundred new jobs across the central belt of Scotland is fantastic news. It brings to almost 3,400 the number of people employed by Webhelp TSC in Scotland and means economic boosts in Glasgow, Larbert and Kilmarnock.
"In particular, it offers our young people enormous opportunities.
"I know Webhelp are keen to target young people for a large number of these jobs, in the hope they remain with the company for many years and are supported in their ambitions to learn and make progress."
Webhelp already employs almost 3,000 people in Scotland and operates call centres in Larbert, Greenock, Kilmarnock, Dunoon, Rothesay and Glasgow.
Webhelp TSC chief executive David Turner said: "With a rapidly expanding business of over 6,000 team members throughout the UK and plans to recruit more than 400 people in the next two years, we are in almost constant recruitment mode."