Sharp rise in new car registrations in Scotland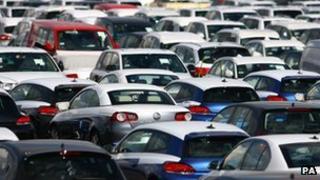 Sales of new cars have risen sharply in Scotland, taking the motor trade by surprise.
There were 15,369 new car registrations in April - a 26% increase on the same period last year.
The rise north of the border outstripped the UK as a whole, which recorded a 14.8% increase to reach more than 163,300 units for the month.
The Scottish Motor Trade Association (SMTA) said the figures confirmed that consumer confidence was returning.
SMTA chief executive Douglas Robertson said: "It goes without saying that we are delighted that the good start to 2013 has continued into April though we are a little surprised at the extent of the growth in Scotland.
"Private demand has increase by 33% over April 2012, confirming that consumer confidence is returning.
"We are currently running at 13.7% ahead of last year and we are sure this reflects the increasing consumer demand."
He added: "The availability of many new models in our members' showrooms, together with the reduced costs of running a new car, has increased footfall in these showrooms and has resulted in more enquiries being converted into sales."
The monthly sales figures were compiled by the Society of Motor Manufacturers and Traders.