Aberdeen firm EnerMech's US growth plans 'paying off'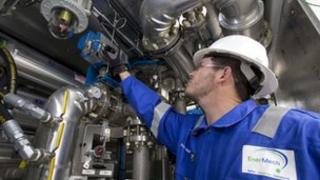 Mechanical engineering group EnerMech says a major expansion drive in the US and Mexico is paying off, after picking up £6m worth of contracts for next year.
The Aberdeen-based company has invested £13m in the two countries since launching a growth plan last year.
It includes a new workshop and storage facility near Houston's energy corridor and a new base at Villahermosa, Mexico.
EnerMech expects its US staff count to grow from 40 to 120 by the end of 2013.
It also expects turnover to more than treble this year, from £4m to £15m, and reach £50m in 2015.
The company has invested millions of pounds over the past year in new process, pipeline and umbilical (PPU) equipment for use in the energy sector.
Vince Kouns, president of EnerMech's US operation, said: "EnerMech is well established and has an excellent reputation in the UK, Europe, the Middle East and Asia Pacific regions, and now it's our turn to show what we can do.
"The US market is the final piece of the jigsaw, and using Houston as our gateway we are doing exactly the same as in those other regions, by making significant investment in infrastructure and experienced personnel who know the oil and gas industry inside out."