Plans for rebirth of Ardersier yard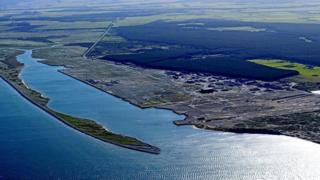 The re-opening of one of the Highlands' largest oil rig fabrication yards has taken a step closer, with submission of a planning application for Ardersier.
The huge 340-acre site, 14 miles east of Inverness, is being prepared for construction linked to the offshore wind industry.
The Port of Ardersier company said planning approval could be followed by dredging works this year.
This would allow it to open for business early next year.
The site is the former McDermott Yard which opened in the early 1970s for the fabrication and construction of offshore platforms for use in the newly-established North Sea gas and oil industry.
At its height the yard employed about 4,500 people but it closed in 2001 as demand dropped.
The plans come after another massive Highland yard, at Nigg in Easter Ross, was taken over in 2011 by Global Energy Group.
It has been putting it back into use as a site for refitting oil and gas rigs and servicing the renewable energy sector, and already employs more than 800 people.
Vacant land
The Port of Ardersier company said the yard could become a 'super-hub' for offshore wind if the planning application was approved by Highland Council, Marine Scotland and Transport Scotland.
Chief Executive Captain Stephen Gobbi said: "There are few other locations in the UK, or indeed Europe, which can offer this quality and quantity of vacant land, a 1,000-metre deep water quay and proximity to the major offshore wind development zones in the North Sea."
He said Ardersier would allow offshore wind developers and manufacturers the opportunity to site their operations close to "first-generation" deep water sites planned for the firths of Moray, Tay and Forth.
In March, Highland councillors gave their backing to plans to build the world's largest offshore wind farm in the Outer Moray Firth.
Moray Offshore Renewables Ltd wants to construct up to 339 turbines across three offshore wind farms located 22km (13.5 miles) from the Caithness coast.
Earlier this year First Minister Alex Salmond announced a memorandum of understanding between Highlands and Islands Enterprise and the Port of Ardersier which recognised the port's capacity to become one of the key manufacturing, construction and installation hubs for projects such as Moray.