John Swinney in return visit to Japan and South Korea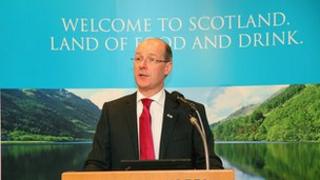 Finance Secretary John Swinney is to make his second trade visit to South Korea and Japan in just over a year to promote Scottish businesses.
Mr Swinney's five-day visit to the Far East will focus on jobs and investment.
He will meet with renewables, life sciences, financial services, textiles and food and drink businesses in Seoul, Incheon City, Kyoto and Tokyo.
In 2011, Scotland exported goods worth a combined total of £550m a year to Japan and South Korea.
Speaking ahead of the visit, Mr Swinney said collaboration between Scottish companies and their South Korean and Japanese counterparts already supported more than 4,000 jobs in Scotland.
He added: "Scotland's strengths in the fields of renewable energy, life sciences, food and drink and textiles are internationally recognised and there is a keen appetite in South Korea and Japan to learn from Scotland's expertise and to share our world-beating products and produce.
"I look forward to opening more doors to businesses based here and in Asia to build on Scotland's recognised excellence and expertise."
The programme has been developed with Scottish Development International (SDI).
'Significant markets'
SDI chief executive Anne MacColl described Japan and South Korea as "very significant markets" for Scotland.
She said: "We have worked closely with companies such as Mitsubishi Electric, Samsung Heavy Industries and Doosan Power to support their investments in Scotland and we will continue to ensure global investors look to Scotland as an excellent location to realise their growth plans."
A number of Scottish companies have a physical presence in Japan, including RBS, Aberdeen Asset Management, Aggreko and Hawick Cashmere.
According to the latest Global Connections Survey, Scottish exports to Japan totalled £365m in 2011.
More than 70 Japanese companies have a presence in Scotland, together employing about 4,500 people.
Scottish exports to Korea reached £185m in 2011.
RBS, Standard Life, Edrington Group, William Grant & Sons and Weir Group are among leading Scottish companies which have a presence there.
Kilt-maker Kinloch Anderson has its own exclusive brand shops in Korea in partnership with local companies Wonpung and Keumkang.
Korean investors in Scotland include Korean National Oil Company and E-Land Group. Samsung Heavy Industries (SHI) and Doosan Power Systems have also indicated they would like to invest in Scotland.