Nationwide expected to shed 500 jobs in regional shake-up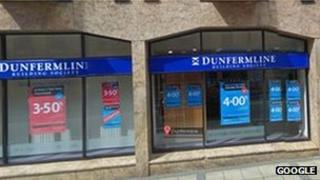 A total of 500 jobs are expected to go as Nationwide integrates the Dunfermline, Cheshire and Derbyshire building societies into its main operations.
The Swindon-based company is cutting about half the staff working across the three regional mutuals.
It has also confirmed that it will close about half of their 91 branches.
The others will lose their current brand names and become Nationwide branches.
Nationwide said 85% of customers would live within five miles of the expanded Nationwide network, up from 70%.
At present, there are 32 branches in both Cheshire and Dunfermline building societies, and 27 in the Derbyshire.
Dunfermline's headquarters, Caledonia House, is being retained. Nationwide said it may increase the 300 staff based there as they move to mainstream customer service and call centre operations.
Nationwide plans to complete the change by the middle of 2015, with Dunfermline the first brand to go.
The three smaller building societies had to accept being taken over by Nationwide as a result of the financial crisis.
Cheshire and Derbyshire merged with Nationwide in 2008, and Dunfermline Building Society was taken over in 2009, in a deal brokered through the UK Treasury, Bank of England and Financial Services Authority.
IT investment
The three smaller building societies have continued to trade separately from the parent organisation.
But as Nationwide has spent £1bn on improving its IT platform in the past five years, it has decided that all its customers should have access to that and the products being operated on it.
In a statement, Nationwide said: "There will be local communications to keep affected members fully informed and affected employees will be found alternative jobs where possible.
"Where this is not possible employees will be given access to appropriate training, support and advice that will help them find alternative work."