Housebuilders warn of extra costs over proposed energy standards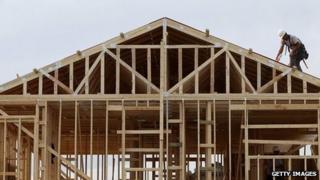 Scottish housebuilders have warned they will be at a significant economic disadvantage if new regulations on energy standards are introduced.
Trade bodies representing the home building, commercial property and construction sectors have collectively written to the Scottish government.
They are warning against additional regulatory burdens at a time when the industry is struggling.
The Scottish government said it was doing all it could to stimulate growth.
Homes for Scotland, the Scottish Property Federation, Scottish Building Federation and Federation of Master Builders are concerned that more red tape will make Scotland comparatively more expensive and difficult to invest in.
They claim new regulations could add £10,000 to the cost of building a house.
The Sullivan Panel, set up in 2007, recommended changes in the energy standards required in 2010 and 2013 to help meet carbon emissions targets.
'Pressing need'
The panel is due to reconvene next week and the organisations are calling on the Scottish government to pause any proposed increases in regulation to take into account the changes in "economic and industry conditions which are fundamentally different to 2007 when the panel's original report was published".
The housing groups said similar concerns over energy efficiency regulations applied to commercial property development.
Homes for Scotland chief executive Philip Hogg said: "Whilst we fully support the Scottish government's ambitions to address the challenges of the green agenda, we believe that imposing even more stringent requirements on the new-build sector ignores the more pressing need to improve the energy performance of the existing built environment, where the overwhelming bulk of the problem lies."
'Not justified'
The Scottish Building Federation's executive director, Michael Levack, said: "A policy focused on imposing further regulation on those sections of the built environment that already attain the highest energy-efficiency standards simply does not justify the cost or wider economic and social risk.
"A comprehensive retrofit programme to improve the energy efficiency of existing buildings would have a far greater impact on cutting carbon emissions."
A Scottish government spokesman said Scotland was "demonstrating global leadership" in cutting emissions and creating a sustainable, low carbon economy.
He added: "We also recognise the current economic pressures on the construction industry and are doing all we can to stimulate growth.
"We are listening to the sector and that's why we have reconvened the Sullivan Panel to provide us with a clearer view of the energy efficiency improvements that can be achieved through building standards."