Cross-border banker bashing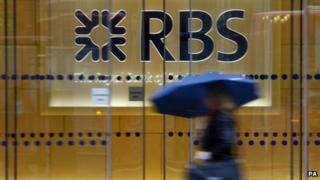 There's public pressure, an appetite for some exemplary bans and a bit of mischief-making behind Vince Cable's call for faster action on Scotland's banks.
The business secretary's mischief-making is clear from the recipient, Lord Wallace of Tankerness, advocate general in the Scotland Office and chief Scots law officer in the UK government.
Lord Wallace, the former Lib Dem deputy first minister, has nothing much to do with the investigation into possible criminal action against those who drove Royal Bank of Scotland over the edge of the precipice in 2008.
That role is down to the Lord Advocate and the Crown Office in Edinburgh, which fall under the oversight of the Scottish government.
So there's political pressure being exerted on another government, even though Vince Cable insists he's not trying to interfere with the process, or at least the outcome of the investigation.
Disqualified directors
He says this follows on public anger still being very much alive. It's been kept that way by parliament's recent Banking Standards Commission report.
And Mr Cable wants to be seen to be doing something about the unhappiness that there's been so little action against individuals for their roles in the downfall of the banks.
There's plenty humiliation been heaped upon Fred Goodwin, former RBS chief executive, but the only actual action has been the removal of his knighthood.
The man who ran the RBS investment bank for him, Johnny Cameron, has agreed not to put himself forward for any senior jobs in finance, for which regulatory clearance is required. But the regulator, formerly the Financial Services Authority, said it would accept that pledge without actually banning him from doing so.
Otherwise, it is only Peter Cummings who has been fined (£500,000), and that was for his role in reckless lending by the corporate division of Halifax Bank of Scotland.
Renewed humiliation
What Vince Cable seems to have in mind is the possibility of using his department's power to ban individuals from being company directors - not only in senior financial jobs, but in any company.
And he feels constrained in taking action on that - either through criminal or civil action - while the Crown Office investigation drags on.
If he's going after that, it shouldn't only be the former bosses at RBS who should be on their guard against a renewed humiliation. The regulator has yet to follow up on the Banking Standards Commission with its own report into HBOS.
And the person with most to lose from this process is Andy Hornby, who was chief executive of HBOS when it had to be taken over. He's the youngest of the culprits, and has reinvented his career in charge of the train sets at Alliance Boots and, now, Coral the bookmakers.
There is, however, a further complication. It's not clear whether Scotland's Crown Office is going after RBS or HBOS only for what went wrong pre-crash.
It only confirmed it had an investigation under way last July - six months after it started - and only then because of the publicity when it was revealed that Barclays was being heavily fined for fixing the Libor inter-bank lending rate.
RBS was then, and remains now, in the frame for that fraudulent skewing of the lending rate.
So it may be that scandal that's taking up Crown Office time, possibly involving those in charge of RBS in more recent years - indeed, those in charge of it now.