Voucher scheme for Scots firms to tackle cyber-crime extended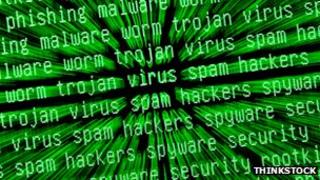 A voucher scheme which allows companies to apply for funding to improve their cyber security is to be extended.
It comes as new research revealed four out of five Scottish businesses are hit by cyber crime.
A PwC and Infosecurity Europe poll said 80% of firms experienced a significant cyber security breach last year.
The UK government said its Innovation Vouchers could help companies protect things such as financial information, websites and intellectual property.
The survey, carried out on behalf of the Department for Business, Innovation and Skills (BIS), revealed more businesses than ever face the threat of losing confidential information through cyber attacks, with breaches generally costing up to 6% of their turnover.
It found the average cost of the worst security breach for small organisations was £35,000 to £65,000 and for large organisations was between £450,000 and £850,000.
Advanced threats
The research revealed 79% of Scottish businesses had experienced attacks by unauthorised outsiders (such as hacking), with 74% impacted by viruses or malicious software.
Almost 60% experienced theft or fraud using computers.
Nan Maguire, PwC project team member based in Edinburgh, said: "It's clear that the business world is changing: companies of all sizes, in all countries and across industries, are routinely sharing information across business borders, whether it's with business partners or employees' personal devices.
"With Scottish businesses facing increasingly advanced threats, it's vital that they act now to ensure they protect what is critical to their organisation's growth and reputation. This is not just an IT problem but a board issue."
The Innovation Vouchers scheme, which is run by UK government agency the Technology Strategy Board, gives businesses the chance to bid for up to £5,000 from a £500,000 pot to improve their cyber security by bringing in outside expertise.
BIS is also publishing guidance to help small businesses put cyber security higher up the agenda and make it part of their normal business risk management procedures.
UK Minister for Universities and Science David Willetts said: "Keeping electronic information safe and secure is vital to a business's bottom line.
"There are simple steps that can be taken to prevent the majority of incidents.
"The package of support we are announcing today will help small businesses protect valuable assets like financial information, websites, equipment, software and intellectual property, driving growth and keeping UK businesses ahead in the global race."