Scottish economy grows by 0.5%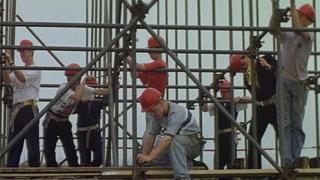 The Scottish economy grew by 0.5% in the final three months of 2012, according to official figures.
That contrasts with a contraction in the UK economy as a whole of 0.3% during the same period.
The surprise boost to output was helped by the production sector, including manufacturing, which rose by more than 1%, and by professional services increasing output by 3%.
However, financial services saw a sharp decline between October and December.
The production sector increased by 1.1%, primarily driven by growth in electricity and gas supply, and construction also grew by 0.6% following a period of contraction.
Within production, manufacturing shrank by 0.5%, although food and drink grew by 0.3%.
The figures were released as official data showed Scottish unemployment fell by 11,000 between December and February to stand at 197,000.
'Further fragmentation'
The Scottish Building Federation (SBF) said despite a "modest" rise in construction output during the last three months of last year, annual output from the industry remained at its lowest level for 10 years.
SBF executive Director Michael Levack added: "As the construction sector continues to shed jobs and capacity, we're seeing further fragmentation of the industry that is potentially damaging to quality, safety and skills.
"Reputable firms are under increasing pressure from late payment of bills and a growing number of rogue traders that undercut them and, through substandard work, give the industry a bad name.
"These are some of the critical issues now affecting our industry that require direct government action."
'Encouraging note'
CBI Scotland assistant director David Lonsdale said: "After a difficult start to the year it is encouraging that the Scottish economy ended 2012 on an encouraging note, driven by a broader based pick-up in activity than in the previous quarter.
"Nothing, however, can be taken for granted, underlining the need for continued action to aid businesses to take full advantage of the recovery."
Scottish Chambers of Commerce also welcomed the new figures.
Chief executive Liz Cameron said: "The news that Scotland's economy grew strongly for the second consecutive quarter is extremely welcome and is in contrast to the more gloomy figures for the UK as a whole.
"Nevertheless we still anticipate fairly weak overall growth trends during this year, meaning that there is no room for complacency when it comes to government action to help ensure a competitive economic environment in Scotland."
Finance Secretary John Swinney commented: "We can build on these figures for the future but we can't allow the UK government's economic policies to derail the positive developments we are seeing in Scotland."
Scottish Conservative finance spokesman Gavin Brown described the figures as "positive news for business in Scotland", arguing that it showed how strong Scotland could be as part of the United Kingdom.