Aggreko reports strong start to year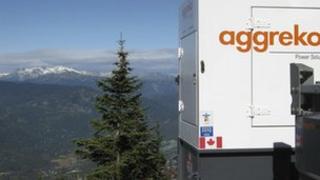 Temporary power firm, Aggreko, has reported trading in the first three months of the year as expected with underlying revenues up by 8%.
The Glasgow company said its local business division had a "very strong" start to the year, with 17% more power on rent than a year ago.
Debt at the group increased, mostly due to the acquisition of the South American business, Poit Energia.
The company said it continued to invest in its business.
It said it expected to spend about £130m in the first half of its financial year on fleet capital expenditure, and about £260m for the year as a whole, although it said it could change the rate of investment depending on market conditions.
Aggreko's local business operates from about 133 service centres in 31 countries and rents out products ranging from small generators to large cooling plants.
Its international power arm serves utilities, governments, armed forces and major industrial customers with power plants ranging from 10 megawatts to 100 megawatts on a single site.
Aggreko employs more than 4,500 people operating from 165 locations.
The group's factory in Dumbarton makes generators for the company's global operations.
At the end of last year, Aggreko, warned of lower sales on the back of military spending cuts in Afghanistan.
The company said a lack of major events during 2013 and uncertainty over some Japanese contracts could also hit its performance in 2013.