New '13' number plate helps boost Scottish car sales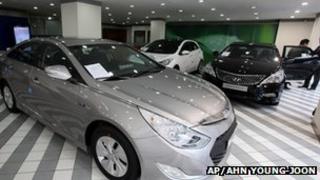 The number of new cars registered in Scotland increased last month, according to the latest figures.
The Scottish Motor Trade Association (SMTA) said more than 38,000 vehicles were sold in March, up almost 10% on the same month in 2012.
Drivers appear to have been lured by the arrival of the new "13" number plates.
Luxury cars sold well, with six Aston Martins, five Bentleys, four Maseratis and 77 Porches being bought.
The UK as a whole saw an increase of almost 6%, with 394,806 units registered last month, compared with 372,835 in March 2012.
In the three months to the end of March, a total of 54,783 cars were sold in Scotland. That figure compares with 49,559 for the same period last year.
Ford, Vauxhall and Volkswagen remain popular brands with Scots, dominating the top 10 best sellers list for March.
SMTA chief executive Douglas Robertson said: "Obviously we are very pleased that the good start in 2013 has continued into March.
"Once again private demand has increased and we believe that these figures are showing a return in consumer confidence.
"The running costs of a new car have decreased considerably and we anticipate that this will be reflected in our registration figures over the spring and early summer months."