Standard Life chief David Nish sees earnings double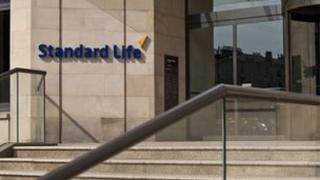 The chief executive of Standard Life, the pensions and savings firm, has seen his earnings for 2012 nearly double, to £5m.
The annual report of the Edinburgh-based finance company showed David Nish had a basic salary of £775,000, with a pension contribution of £232,000.
His bonus for last year was £1.2m, and a longer-term incentive bonus came to £2.76m.
In 2011, Mr Nish earned a total of £2.6m.
Keith Skeoch, head of Standard Life Investments, and one of the most powerful figures in British fund management, earned £4.35m last year.
The chief executive's pay exceeded the earnings of one of Scotland's other top financiers, Martin Gilbert of Aberdeen Asset Management. In his company's most recent accounts, Mr Gilbert's earnings remained £4.5m for a second year.
The report of the Standard Life directors' remuneration committee, which sets top pay, explained that the large bonuses for 2012 reflected 65% growth in operating profit before tax, to £900m, and 61% growth in the share price during the year.
Maximum payments
Crawford Gillies, chairman of the remuneration committee, who is also chairman of Scottish Enterprise, said the company had made progress towards its other goals, which included putting customers "at the heart of everything it does".
He said that performance meant the committee "decided it was appropriate to award the executives close to the maximum payments under the annual bonus arrangements".
Following a review of executive pay, Mr Nish's basic salary this year is going up by 1.9% to £790,000 - an increase in line with the pay award for the wider workforce at Standard Life.
As a leading and influential institutional investor, Standard Life has been at the forefront in scrutinising senior executive pay, insisting on more openness in company accounts and clearer links to performance.