Faroe Petroleum reports losses but doubles turnover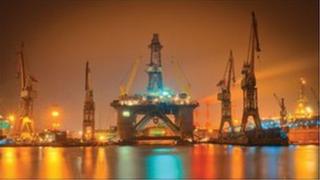 Faroe Petroleum, based in Aberdeen, has reported a £29m pre-tax loss for 2012, as turnover nearly doubled to £159m.
That follows a pre-tax profit of £14m the previous year. It was affected by expansion and investment in new North Sea exploration and production.
It operates and has stakes in UK and Norwegian offshore fields.
The firm invested £112m on exploration and a further £49m on development of producing fields, comparing with a total of £96m in 2011.
It was left with cash of £73m, whereas at the end of 2011, it had £112m.
With its annual results, Faroe said it plans to spend £120m on exploration and £50m on developments of producing fields.
Graham Stewart, its chief executive, commented: "This has been a particularly active year for the company, with a dramatic boost to production, and cash flow, together with a steady, fully funded exploration programme.
"We have increased our portfolio significantly through a large number of licence awards, including our first award in Iceland".
Significant discovery
He continued: "The considerable increase in cash flow from our production base, combined with healthy cash balances and debt facilities ensures we are well financed going forward.
He said this year has brought a significant discovery at Rodriquez.
Another oil company focussing on the North Sea, Ithaca Energy, reported 2012 pre-tax profits down 21% to $29m (£20m).
Cash flow was up 50% to £60m, with net earnings up 160%, while it has £21m of cash balance at the end of the year, and nearly £300m in borrowing facility.
Ithaca has launched an agreed takeover bid for Valiant Petroleum, due to complete in April, which will make it a more significant North Sea operator.
A smaller North Sea operator, Xcite Energy, also reported its financial results for 2012, showing £13m revenue and a net loss of £1.7m, as it began production from the Bentley field.
The stock market price of Faroe, Xcite and Ithaca all rose following publication of their annual results.