Mixed fortunes for Aberdeen, Glasgow and Edinburgh airports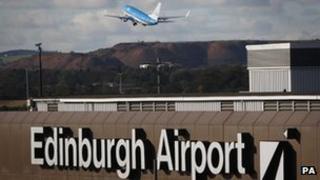 Scotland's busiest airport has reported a drop in passenger numbers.
Edinburgh Airport said a total of 563,900 people passed through it last month - a dip of 7.8% compared to the previous year.
There was also a small drop in passengers at Aberdeen International Airport, largely because of the grounding of some North Sea helicopters.
But Glasgow said its passenger numbers had increased by 2.1%.
Edinburgh Airport chief executive Gordon Dewar said last month's passenger figures disguised good performances from a number of airlines, all of which saw traffic increase.
He added: "We have worked hard to overcome the challenges we faced in 2012 and have secured new destinations for our passengers.
"Both Ryanair and easyJet are launching six new routes in the coming weeks.
"April will also see the launch of Little Red, the new Virgin Atlantic service from Edinburgh to London Heathrow. This is hugely exciting and will help redress the shortfall of domestic services impacted by the extra day in February last year."
Elsewhere, the grounding of the Super Puma EC 225 since a helicopter ditched off Shetland on 22 October contributed to a 1.2% drop in passenger numbers at Aberdeen International Airport.
The airport saw a 15.1% reduction in helicopter passengers, but recorded a 1.7% increase in fixed-wing passenger numbers.
The airport's commercial director Carol Benzie said: "There were two factors which affected our most recent set of passenger figures.
"Firstly, the ongoing issues with the helicopter fleet had an impact on the numbers we report, and we are maintaining close communication with the helicopter operators to understand the developments as they evolve.
"Also, February last year had one extra day in it, owing to the leap year, and therefore our stats for 2013 are negatively impacted by the loss of one working day."
International traffic
Meanwhile, more than 423,000 people travelled through Glasgow Airport in February, representing year-on-year growth of 2.1% after adjusting for 2012 being a leap year.
The airport said the growth was driven by domestic services and the demand for travel to London in particular, while international traffic was in line with 2012.
Its managing director, Amanda McMillan, said: "It is encouraging that our passenger numbers showed modest growth in February which was largely due to the strength of our domestic services.
"February was a busy month in terms of route development with Air Malta confirming it will introduce a new weekly service in May and the first Wizz Air flights to Gdansk and Warsaw have now been launched.
"We also unveiled details of an additional £10m of investment for 2013, on top of an already planned £7m, to improve our passenger-facing facilities ahead of next year's Commonwealth Games in Glasgow.
"We are now looking forward to the commencement of the busy summer schedule in April as well as Lufthansa's inaugural flight to Düsseldorf on Monday 8 April."