Edinburgh-based Standard Life profits' surge prompts payout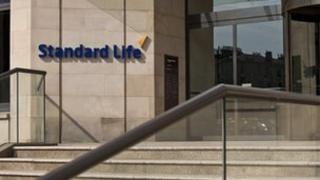 Standard Life is to pay out more than £300m to shareholders after posting a larger-than-expected annual profit.
Shareholders will benefit from a £302m windfall after the Edinburgh-based business reported £286m in UK pre-tax operating profits, up from £156m.
Overall, the group made an operating profit of £900m, up from £544, the previous year.
It also announced it will pay a special dividend of 12.8p per share, on top of a regular payout of 14.7p.
The profits' surge follows a year in which the firm shed more than 100 jobs as part of a restructuring process.
The move was in response to regulatory changes such as pensions reform and the retail distribution review (RDR).
Increased profitability
Despite Standard Life's strong performance in the UK in 2011, the operating profit before tax for the rest of Europe was down at £37m, compared with £46m the previous year.
Chief executive David Nish said: "Standard Life has delivered a substantial increase in profitability and has a strong capital position supporting increased dividends for our shareholders.
"We have been building strong positions in our core markets. In the UK we are ready to benefit from the significant changes to the market and the increased customer need for savings products.
"In Standard Life Investments we have one of the world's leading asset managers whose reach and scale is increasingly global."
The 65% increase in profits came despite a significant fall in UK company pension net inflows from £2bn to £1.2bn a year, as firms put off decisions ahead of the launch of a scheme to automatically place workers in company pensions.
Pensions boost
It said employers were delaying changes to their pension plans due to the phased launch of auto-enrolment, which began on 1 October 2012 and will see up to 10 million people placed in workplace pensions, starting with the largest firms and gradually applying to other firms over the next six years.
Standard Life said it expected a significant boost from the scheme over the years ahead, forecasting a potential 400,000 extra savers.
Mr Nish said: "We've got 35,000 corporate clients, we're transitioning 300 during this year, so from our view point auto-enrolment is a very positive driver of our business."