Number of new cars registered in Scotland rises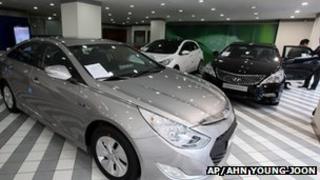 Scotland's motor trade is predicting a buoyant year after figures showed the number of new cars sold in country last month rose significantly.
A total of 5,064 new cars were registered in February, an increase of 14.4% on the same period in 2012.
Sales in Scotland outstripped the UK as a whole, which experienced an increase of 7.9%.
The figures were released by the Society of Motor Manufacturers and Traders (SMMT).
A total of 16,694 cars have been registered in Scotland so far this year, up from 14,775 at the same time in 2012.
Ford remains the most popular brand with Scots, with the Fiesta, Focus and Ka featuring in the top 10 makes sold.
The SMMT said the figures were a positive start to the year and suggested demand was set to grow in 2013.
Scottish Motor Trade Association chief executive Douglas Robertson also welcomed the latest figures.
He said: "Obviously we are very pleased that 2013 has shown such a good start and continues on from the last quarter of 2012.
"February is of course a low volume month prior to the March registrations, but this gives us genuine belief that with private demand increasing March will be an excellent month.
"Our members' showrooms have certainly reported increased footfall over the past month as consumers seek the new plate."