SSE withdraws from Scotland to Norway electricity project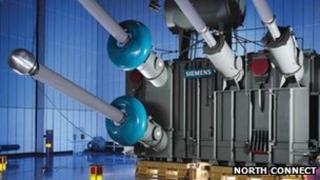 Energy company SSE has announced it is withdrawing from a project to build a subsea electricity cable linking Scotland and Norway.
The firm said it would "no longer have a financial involvement" in the NorthConnect project.
SSE will instead focus on its markets in Britain and Ireland.
NorthConnect's other partners, Sweden's Vattenfall and Norwegian companies E-CO Energi, Agder Energi and Lyse, said it would not affect their plans.
SSE added that a lack of clarity on interconnector regulation contributed to its decision to withdraw from the project.
The company is further planning to dispose of its interests in Scandinavia, including a generation pipeline of almost 900MW of which 89MW has consent for development.
An announcement on the sale of its Swedish portfolio is also expected in the coming weeks.