Edinburgh firm Genius Foods buys bakeries for £21m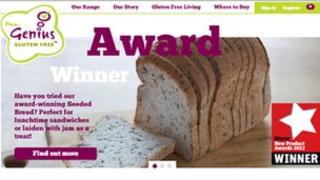 Gluten-free food specialist Genius Foods has bought United Central Bakeries (UCB) for £21m.
The acquisition of the Finsbury Foods subsidiary includes UCB in Bathgate and the Livwell bakery in Hull.
The combined company will have an estimated turnover this year of nearly £50m.
Edinburgh-based Genius, which already claims a 50% share of the UK gluten-free bread market, said the deal would accelerate the development of products.
Chief executive Roz Cuschieri described the transaction as "transformational" for the company.
'Natural step'
She said: "Our customers are constantly looking to us to bring further innovation to the market and owning our own production capability will enable us to better meet that demand.
"UCB in Bathgate already produces Genius bakery products, and this acquisition is the natural next step in the evolution of the successful joint venture that existed between our two businesses since January 2011.
"The acquisition of own label capability will allow us to offer a full category perspective and we look forward to working closely with our retail customers to develop this growing category with them."
Ms Cushieri said the company planned to invest in the bakeries to cope with increasing demand for its products.
She added: "We are also looking forward to stretching the Genius brand into other food categories, where great-tasting gluten-free food is difficult to find."
HSBC provided a funding package of £7.5m to facilitate the acquisition.