Sausage company's profits squeezed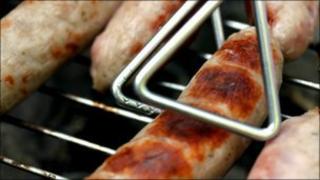 Sausage skin maker Devro has reported a 5% fall in full-year profits on the back of rising costs and currency changes.
The Moodiesburn-based group had warned that profits would be lower than originally expected.
Pre-tax profits for 2012 were nearly £41m compared with £43m in 2011.
However, the group's revenues overall grew by 5.9% to £241m with strong sales in some parts of Europe, Japan and the Americas.
Devro said its premium Select range continued to perform well and close to three billion sausages have been manufactured in this casing since its introduction in May 2010.
The company said Germany remained a particularly "attractive market" for it, with "a long tradition of sausage manufacturing, high levels of per capita consumption and a significant proportion of the market currently using sheep gut".
Last year, sales of its casings in Germany grew 30% and sales to Japan grew by 46%. In contrast, sales to the UK fell.
In a statement, the company said: "In the early part of 2013, we are implementing further price increases to recover the higher than expected rises in raw material costs during 2012.
"The outlook for raw materials in 2013 remains challenging."