Scottish unemployment falls by 13,000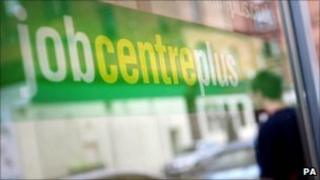 Scotland's jobless total fell by 13,000 to 206,000 between October and December, according to official figures.
The number of people in jobs also fell by 11,000 over the same period.
The total number of employed in Scotland now stands at 2,461,000.
Office for National Statistics (ONS) data showed that the Scottish unemployment rate was 7.7%, slightly below the average of 7.8% for the whole of the UK.
UK unemployment fell by a total of 14,000 to 2.5 million.
Meanwhile, the number of people claiming Job Seeker's Allowance in Scotland fell by 600 from December to 137,000 in January.
The level is down by 5,200 on January 2012.
The ONS figures also showed that youth unemployment in Scotland fell by 28,000, or 5.9%, over the last year.
Scottish Secretary Michael Moore said: "The government continues to work hard to reduce unemployment by laying the foundations for a stronger, more balanced economy."
Finance Secretary John Swinney said it was the third set of monthly unemployment figures in a row that had shown a fall.
He added: "But we must not be complacent - too many people are still looking for work, and the Scottish government is taking action to address this by maintaining the most competitive business environment anywhere in the UK and investing in our infrastructure."
Scottish Labour's finance spokesman Ken Macintosh argued the fall in unemployment disguised "the very serious and far more worrying upward trend" in those withdrawing from the labour market in Scotland.
He added: "Employment is increasing across the UK as a whole, but here in Scotland the number of people in work is falling.
"The Scottish government had an opportunity to present a budget with measures aimed at getting people back into work, but instead we are seeing a further weakening of the jobs market."
The Scottish Chambers of Commerce welcomed the latest data.
Chief executive Liz Cameron said: "It is good news that unemployment in Scotland has continued its downward trend, and it is particularly important to note that youth employment fell by 28,000 over the course of last year.
"This has undoubtedly been assisted by the focus on youth employment that has been evident on the part of the Scottish government in 2012, and Chambers of Commerce across Scotland have also sprung into action to help tackle high levels of youth unemployment."
Jobs website totaljobs.com said the latest figures were a reflection of a healthy labour market in Scotland, with recent investment from the IT, engineering and oil and gas industries.
Regional manager Steve Clark added: "However, this is balanced with bad news on the high-street as retail giants HMV, Jessops, Blockbuster and Republic fall into administration.
"The shop closures have left city centres looking sparse and unwelcoming which will have a detrimental impact on traditional retail, as more shoppers will choose to buy online."