Edinburgh games firm Rockstar North reports £12.6m loss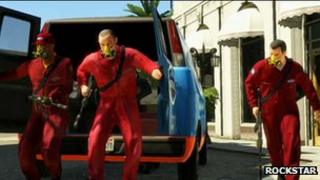 The makers of the Grand Theft Auto games series made a pre-tax loss of more than £12.6m last year.
Edinburgh-based Rockstar North listed £11.5m in exceptional items during the year to the end of March 2012, in accounts filed at Companies House.
They included revenue adjustments on transfer pricing, which some firms use to account for revenue in different tax regimes.
In the previous 17-month accounting period, Rockstar made £5.4m in profits.
Turnover in the 12 months to March was just over £18m, compared to £25.8m over the previous 17 months.
Rockstar, which spent £22.2m on research and development last year, is due to release Grand Theft Auto V in the spring.
It has described the latest instalment as its "largest and most ambitious" game to date.
Grand Theft Auto IV sold 926,000 copies in the UK alone in its first week and went on to sell well over 20 million copies globally.
Rockstar North employed a monthly average of 269 staff last year, mostly in development activities.