DC Thomson reports small profits rise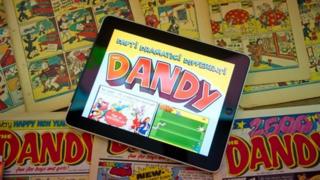 Dundee-based publisher DC Thomson has reported a small increase in profits, despite seeing turnover drop.
Group profits climbed by £2.1m to £29.5m in the year to the end of March.
But trading turnover fell by £6.5m to £248.9m, which DC Thomson said reflected "challenging markets in all areas of business".
The publisher said the closure of its book and magazine print plants and other savings contributed to the profits rise.
DC Thomson, which counts the Sunday Post, the Courier and the Press and Journal among its newspaper titles, reported a 3.3% fall in total advertising revenues from its newspapers and magazines division.
Book revenues were down by less than 1%, while profits also fell. The publisher in part attributed the drop to the impact of "retailer difficulties".
The group, whose companies include Parragon Books and IT business services provider BrightSolid, also said that online revenues "fluctuated".
In its annual report, DC Thomson said: "Whilst trading revenues have tended to fall as a result of both the effect of continuing economic conditions and the internet, changes made to the structure of the businesses and the closure of our book and magazine print plants and other savings have resulted in this small increase in trading profit."
Looking ahead, DC Thomson said it expected its traditional business "to continue to prosper" and that it was committed to finding new products and markets.
It added: "We continue to plan and execute new digital routes to market and are committed to continuing the success of our online and genealogy businesses.
"We are firm believers in the future of our newspapers and magazines, both in print and online."
The last ever printed edition of DC Thomson comic The Dandy went on sale earlier this month.
The Dandy, which features characters such as Desperate Dan and Korky the Kat, was first published 75 years ago.
But its circulation had plummeted to about 8,000 copies a week in recent years, from a peak of two million in the 1950s.
DC Thomson has now launched the comic online, and as a smartphone and tablet app.