Mixed fortunes for Scotland's city hotels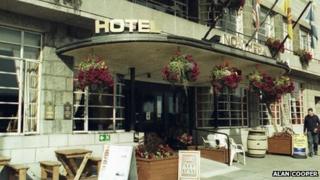 The strength of the offshore energy sector has helped boost revenue for Aberdeen hotels. The figure for October was up by 24%.
It reached an average yield per room of £67 per night.
The city's occupancy rate rose 11 percentage points to 85%.
The monthly survey by accountants PKF showed a mixed picture for the industry across Scottish cities, with tourist numbers down in Inverness and Edinburgh.
Glasgow was helped by big music events, including concerts by Muse and The Killers. Occupancy was up six points to 86%, with revenue boosted by 8%.
However, PKF reported Inverness occupancy down by 11% and revenue by 8%.
Edinburgh's room occupancy was down 2%, with revenue by slightly less.
The overall figure for Scotland was a rise in occupancy by 2.6 percentage points to nearly 80%, while its UK figure was only 0.4% up, at 75%. The revenue figure for Scotland was up 5.5% to a yield per room of £52.33.
Alastair Rae of PKF said the overall figures showed a healthy improvement during October, but he voiced concern about the nation's and Highland capitals.
"The concern is that Edinburgh continues to experience a downturn in occupancy and revenue. It is clear that domestic and international economic difficulties are playing their part in suppressing leisure visitors to the city.
"If this continues then it is of some concern for future investment and development in the sector".
He continued: "Unfavourable exchange rates for overseas visitors and rumours of a triple dip recession are obviously creating concerns and a drop in consumer confidence, which is negatively affecting hospitality and the retail sectors as discretionary spending tightens yet further."