Scotch whisky boosted by EU-Latin America trade deals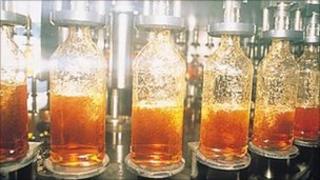 The Scotch whisky industry has welcomed EU approval of new trade agreements which could boost exports to Latin America.
MEPs voted in Strasbourg to ratify the removal of tariffs on most EU-produced spirits exported to Colombia and Peru.
The free trade agreement will eliminate a 15% tariff to Colombia and a 9% tariff to Peru.
They also approved an agreement which will make it cheaper to sell Scotch whisky in six Central American nations.
The deal with Costa Rica, El Salvador, Guatemala, Honduras, Nicaragua and Panama will lead to tariffs on all EU spirits, except rum, being eliminated over time.
The Scotch Whisky Association (SWA) said it was delighted that the agreements - which include greater legal protection for Scotch - had been ratified.
SWA deputy director of international affairs David Williamson said: "We have been pushing hard in favour of these trade agreements with Central America, Peru and Colombia.
'Level playing field'
"The agreements will help deliver a more predictable and level playing field for Scotch whisky producers.
"Tariff elimination, new mechanisms to tackle discriminatory taxes and better legal protection for Scotch whisky will all support industry growth in the region, and therefore the UK economy which is looking for an export-led recovery."
According to the SWA, direct exports to Central and South America reached £489m last year, up by 38% on 2010.
Exports to Peru increased by 97% to £18m, while sales to Colombia were up 74% to £24m.
Speaking ahead of their ratification, EU Trade Commissioner Karel De Gucht told BBC Scotland the agreements were very significant.
"This is, together, a very big trade and political move for the European Union and the countries concerned," he said.
"These are very interesting markets for Scotch whisky. For Peru the trade will be immediately liberalised so the tariffs will immediately disappear.
"For Colombia there will be a transitional period for 10 years, whereby you gradually diminish the tariffs, and for Central America you have a transitional period of six years."
He added: "But in all three cases this is opening up substantial new markets for Scotch whisky."