Scottish business leaders cautiously welcome UK growth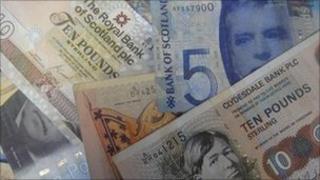 Scottish business leaders have given a cautious welcome to news that the UK economy emerged from recession in the three months from July to September.
Office for National Statistics data indicated the economy grew by 1.0%, boosted by Olympic ticket sales.
The Scottish Chambers of Commerce (SCC) and Federation of Small Businesses (FSB) called the figures "good news".
But they warned that the positive impact of the Olympic Games might not be replicated in Scotland.
Third-quarter GDP figures for Scotland are not due to be published until January.
SCC chief executive Liz Cameron said she hoped the Scottish economy may have entered positive growth territory as well.
She added: "However, the positive effect that the Olympics seems to have had on the overall UK figure - perhaps adding 0.2% or more to the overall figure - is unlikely to be replicated in Scotland.
"Indeed from our own survey evidence and that of many other independent bodies it appears that the Olympics may have had a negative effect on a number of sectors, including tourism, where occupancy rates outside of Scotland's major cities was much weaker than in recent years."
'Encouraging news'
FSB in Scotland's head of external affairs, Colin Borland, said the economic impact of the Olympic Games might not have been equally distributed across the regions and nations of the UK.
"We'll need to wait for further analysis to see if the parts of the UK furthest from the south east saw a similar bounce," he said.
"The road to recovery will be long and there will doubtless be setbacks along the way, but today's news is encouraging."
Earlier this month, Scottish government data suggested the Scottish economy faced a deeper recession in the first half of this year than previously thought.
Figures for April to June showed a 0.4% fall, following a drop of 0.2% in the first quarter.