Scottish jobs outlook 'lags behind the rest of the UK'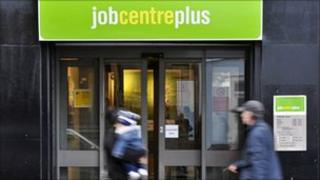 Scotland's employment outlook is lagging behind the rest of the UK as a whole, according to a new survey.
Recruitment firm Manpower surveyed 2,100 UK employers about their hiring intentions over the next economic quarter.
It found that Scotland's outlook remained at a negative level, of -2%, whereas the UK-wide outlook was positive, at +3% over the past quarter.
Despite being negative, Scotland's figure was up on the previous quarter.
Wales showed the most positive feedback, with a +15% outlook.
Amanda White, operations manager at Manpower, said: "Scotland's employment prospects remain lacklustre, but at least they're less negative than the previous quarter which suggests the jobs market is heading in the right direction.
Aberdeen 'strong'
"The important thing is that jobseekers must not be despondent, there are are jobs out there.
"We're seeing opportunities in a number of call centres and also for those with language skills, but people might need to be prepared to be more flexible about working on a part-time or temporary basis."
She added: "There continues to be a strong jobs market in Aberdeen, which is at odds with the rest of Scotland, and those people with the right skills and experience will find themselves in a better position to land a job."
The latest Manpower Employment Outlook Survey figures also showed that overall, for the first time in four years, UK employers of all sizes were hiring.
Finance and business services showed the biggest increase in recruitment, according to Manpower, with manufacturing second.
However the construction industry remained one of the worst industries for hiring, firmly in "negative" jobs territory, the survey said.