Scots mortgages 'most affordable'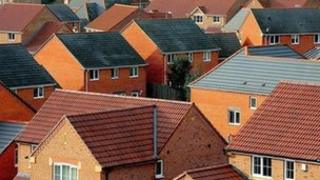 The proportion of income spent on mortgages has fallen to a 10-year low - with Scotland the most affordable place, according to a survey.
The Bank of Scotland report said typical mortgage payments for first-time buyers and home movers account for 20% of disposable earnings in Scotland.
That compares with the UK figure of 26%.
At the end of 2007, the average mortgage payment in Scotland was at a peak of 38% of disposable income.
The research also said that the 10 most affordable local authority districts in the UK were all in Scotland.
They were: East Ayrshire, West Dunbartonshire, North Ayrshire, Renfrewshire, North Lanarkshire, South Ayrshire, Falkirk, Inverclyde, Clackmannanshire and the city of Dundee.
East Ayrshire is the most affordable council area in the UK with typical mortgage payments accounting for 15% of average local earnings.
Aberdeenshire is the least affordable in Scotland, with mortgage payments accounting for 25.7% of average earnings.
Nitesh Patel, housing economist at Bank of Scotland, said: "Lower house prices and reduced mortgage rates have led to a significant improvement in housing affordability for those able to fund the necessary deposit to enter the market over the past five years."
He added: "The prospect of interest rates remaining at low levels for sometime yet is expected to continue to be a key factor supporting the demand for homes, helping to keep house prices around their current level during the remainder of 2012."
However Dr John Boyle, head of research at property sales and lettings company Rettie & Co, warned of a lack of confidence in the housing market.
He said: "The high level of deposit required and restrictions on lending are still making it difficult for people to get on the housing ladder, hence transaction levels remain relatively subdued.
"Improving affordability certainly provides a boost to the housing market, but there remains a lack of market confidence due to economic uncertainty."