Jump in new car sales in Scotland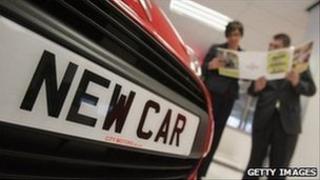 New car registrations in Scotland in July increased by 24% compared with the previous year, according to industry statistics.
The Scottish Motor Trade Association (SMTA) said in the seven months to the end of July sales of new cars increased by more than 7%.
On both measures Scottish registrations are ahead of UK figures.
In the rest of the UK registrations in July grew by 8%, and over the seven months by 3%.
The latest data follows other positive surveys.
Douglas Robertson, chief executive of the SMTA said: "Obviously we are once again very pleased at another improvement on last year's figures and delighted to see a continuation of the upward trend of the past few months".
However, he warned against reading too much into one month's figures and expressed "surprise" at the strength of July's data.
He added: "Availability of cars always can distort these figures slightly and the July figures reflect that.
"This improved availability together with the excellent range of fuel efficient cars on the market has increased competitiveness and encouraged consumers to return to the market".
The figures also showed that luxury brands continued to sell well this year.
In the first seven months of 2012, 20 Aston Martins have been sold as have 24 Ferraris, 38 Bentleys, 10 Rolls Royces and 1 Lamborghini.
However, the most popular car in Scotland was the Ford Fiesta followed by the Vauxhall Corsa and then Astra.