Scottish dairy farmers 'must work together'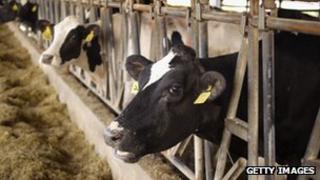 NFU Scotland has launched an initiative to encourage greater collaboration in dairy farming at a rally in Lanark.
Dairy Farmers Together (DFT) is to be supported by £100,000 from the Scottish government.
More than 500 representatives of the sector gathered at the rally at Lanark Market.
UK farmers have been staging protests over a series of price cuts announced by suppliers this year although some of them have since reversed the cuts.
Speaking at the meeting, NFU Scotland President Nigel Miller said: "The dairy coalition deserves immense credit for what it has achieved in a few short weeks.
"We have gone from a position of retailers having no money in the kitty for milk and processors planning cuts to a stage where farmers are on a better footing.
"However, that is just the start and work now begins to drive milk prices to a level this autumn where dairy farming families can start investing in their businesses and planning for a future that involves milking cows.
"That is what the general public clearly expects processors and retailers to help deliver."
Milk committee vice chairman Rory Christie said the DFT could be an umbrella group which took "nothing away" from individual organisations but instead added to the "strength of the whole".
He said he was sure that could "drive change" and deliver a "stable and transparent" pricing process.
One of the speakers at the Lanark meeting was Rural Affairs Secretary Richard Lochhead.
He said: "It's ludicrous that our dairy farmers are paid less than the cost of production for each and every pint of milk.
"Therefore I congratulate Scottish farmers for the dignified way in which they have carried out the campaign to highlight this untenable situation, which has captured the public's imagination.
"I fully support these efforts and believe the plans for collaboration can help underpin meaningful change.
"That's why today I'm announcing £100,000 to support this farmer-led initiative to be established as soon as possible."
Scottish Conservative rural affairs spokesman Alex Fergusson MSP, who attended the rally, said it was clear that unity was "everything" for the industry.
"If the dairy farmers of the UK stick together and use the momentum they have undoubtedly gained throughout the past three weeks, they can achieve and maintain the long-term sustainable solution to milk pricing that has eluded them for too many years," he said.
"I would entirely endorse that call for unity and strongly urge all producers to work together to achieve that end."