Superglass appoints directors in turnaround bid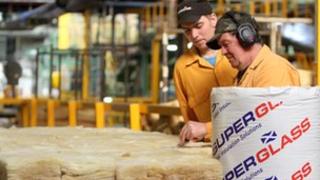 Struggling insulation company Superglass has brought in two new directors in an ongoing bid to turn around its fortunes.
The Stirling-based firm has appointed a new finance director and interim sales and marketing director after reporting a decline in sales.
Superglass said trading since April had been "disappointing".
The company also warned that market conditions in the UK were "extremely challenging and difficult to predict".
It blamed activity levels in the construction sector, which it said had been adversely affected by poor weather and "the unusually large number of bank holidays".
In a trading update, Superglass - which completed a refinancing package at the end of last year after suffering financial difficulties - said sales related to Cert (Carbon Emission Reduction Target) activity had been disappointing, despite an improvement seen in the early part of the year.
The company said it was now "aggressively attacking its cost base" with the aim of becoming the lowest cost producer in the UK market.
It has brought in Allan Clow as finance director and company secretary from the end of August.
Mr Clow is a former finance director of Havelock Europa's interiors division and previously worked at Babcock Rosyth Defence, AG Barr and Hughes Microelectronics Europa.
Superglass has also appointed an unnamed interim sales and marketing director "with extensive relevant sector experience".
Sales decline
In a statement, the company said: "Net sales in the second half of the current financial year are lower than we anticipated at the time of the announcement of the interim results and will be below the level reported for the first half, with average daily sales tonnages having declined since the relatively strong performance in March.
"This decline, which is due primarily to the reduction in Cert-related sales, has been partly offset by an improvement in the average selling price per tonne.
"The company's financial performance has also been adversely affected by a short-term increase in overhead costs incurred as a result of the turnaround process."
It added: "The board now expects that the company's performance in the second half will be below that in the first half, as Superglass continues its turnaround and implements its cost reduction programme."
The company warned there were no signs yet of any sustained improvement in the market.
It also said there continued to be "great uncertainty" over the planned transition at the end of the year from Cert to the UK government's "Green Deal" - a scheme which aims to improve the energy efficiency of homes by eliminating the need for householders to pay upfront for efficiency measures.