Winchburgh: £1bn urban renewal project under way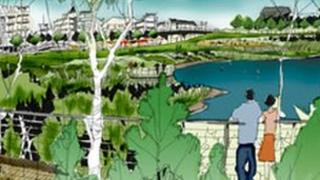 Work has started on a £1bn construction project in West Lothian.
About 3,450 new homes will be built at the Winchburgh Development, near Broxburn, over the next 15 years.
Shops, offices and community facilities will also be constructed at the 900-acre site.
The urban renewal project, which is a partnership between landowners and developers, is expected to support about 300 new jobs a year in its first phase.
The phase will involve the construction of 550 houses over the next five years, with Miller Homes and Barratt already contracted to start work on 180 of these in the autumn of this year.
The local council and developers Sigma Capital are working in partnership to provide key infrastructure.
School works
Last year West Lothian Council forward-funded an extension at Linlithgow Academy to provide additional school places for the first phase of the development, and this week the project will contribute £1.27m to the council's costs.
The development has already paid £1m to the council for work at the Holy Family/Winchburgh Primary School buildings, and in due course further developer contributions will be made to support these primary schools.
The first phase was launched by Infrastructure Secretary Alex Neil.
Mr Neil said: "The Scottish government has always argued that investing in our infrastructure is one of the primary ways to create jobs and stimulate growth in our economy.
"Last week, the CBI echoed that view highlighting the important role that the construction sector plays as a job-creator and key player in infrastructure renewal.
"As one of Scotland's largest construction projects, this development in West Lothian illustrates how co-operation between the public and private sector can benefit the local community and stimulate the wider economy."
West Lothian Council's executive councillor for development and transport, Cathy Muldoon, said the start of the Winchburgh Core Development Area (CDA) was good news for the area.
"The expansion of Winchburgh is a key objective of the West Lothian Local Plan," she said.
"The new housing, jobs, schools and community facilities will be of great benefit to local people. We look forward to working with the developers and the local community to make sure that the development is a success."
The Scottish Building Federation said it "warmly" welcomed the investment in West Lothian.