Bank of Scotland: Moderate improvement in job market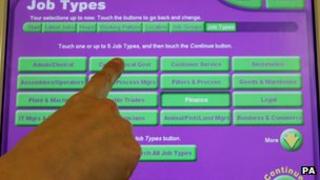 The number of Scots finding permanent jobs rose again last month - but at the slowest rate since January, according to a survey of recruitment agencies.
The Bank of Scotland Report on Jobs said greater demand for staff contributed to a "moderate" rise in permanent placements during June.
However, recruitment consultancies reported the slowest increase in permanent vacancies since February.
Average pay declined last month at its sharpest rate since September 2010.
Glasgow recorded the fastest rise in permanent placements in June.
Five out of eight main sectors posted a larger number of permanent vacancies, led by IT and computing.
Meanwhile, temporary staff billings declined from May - with Aberdeen recording the biggest fall.
Bank of Scotland chief economist Donald MacRae commented: "The Report on Jobs for June showed vacancies continuing to rise and an increase in the numbers of people appointed to permanent jobs.
"However the rate of growth slowed, showing a weakening in labour market conditions.
"The Scottish economy is struggling to maintain growth momentum in the face of the global slowdown. "