Scottish Futures Trust 'makes £131m capital spending savings'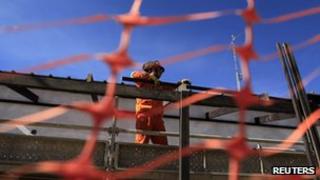 The body set up to support capital spending by government, its agencies and councils in Scotland has claimed to have saved £131m during the past year.
In its annual assessment, the Scottish Futures Trust (SFT) reports saving £2m more than it did last year.
The trust believes its efficiency drive has cut costs on the school building budget so much that it can afford to construct another 12 schools.
The organisation was set up by the SNP government.
It aims to find ways to avoid the excess profits made from private financing of public sector projects.
In its third full year in operation, the non-profit distributing model of finance (NPD) is saving less than £7m, according to its own figures.
But the organisation's impact is being felt more often in finding new ways of using future tax to fund investment.
It is using private finance to fund house-building, with guarantees of rental payments provided by the Scottish government.
The SFT, using calculations validated by experts at Grant Thornton and the London School of Economics, claims that house-building is keeping 700 construction workers in jobs.
With a programme to build 1,000 homes, 600 are being built at present, on 12 sites.
The SFT said it was driving down the cost of school building.
"Such has been the success of SFT's focus on high quality sustainable design at a competitive price that within Scotland's Schools for the Future programme, for example, enough money has been saved to build an additional 12 schools, increasing the total number from 55 to 67," according to the SFT report on its 2011-12 outcomes.
New task
It has yet to be decided where the extra schools will be built as part of the £1.25bn schools programme.
Many of the claimed £131m savings across its activities have come from not having to use more expensive consultants.
And with more funds added to the trust's £4m operational budget, it is being given the new task of saving £500m over five years through better management of buildings and other assets owned by government in Scotland.
Chairman Sir Angus Grossart said the trust had "demonstrated significant progress in times of economic challenge".
He added: "Central to SFT's success in delivering £131m of savings and benefits has been the strong strategic alliances it has established with local authorities, health boards and other public bodies across Scotland to collaboratively deliver value-for-money on public sector construction projects."
The Scottish government said the independently-verified report illustrated that SFT had met its financial target to release savings of between £100m and £150m a year for the third year in a row.
Infrastructure Secretary Alex Neil said: "The Scottish government is doing all it can to maximise investment into infrastructure projects across Scotland.
"The savings SFT achieved last year, in collaboration with a wide range of public sector bodies, allow us to deliver more - more houses and schools, more health and community projects."
'No consolation'
The Scottish Conservatives said the SFT profits came as "no consolation" at a time when a new hospital for sick children in Edinburgh, which is being funded by the SFT, was facing delays of more than five years.
Health spokesman Jackson Carlaw said: "This announcement will be of no consolation to the children, parents and staff who are desperately awaiting a new paediatric hospital for the east of Scotland.
"The new Sick Kids was supposed to be open by the end of this year, but now the best estimate anyone can give is sometime in 2017."
He added: "One of the main reasons behind this delay was the SNP's decision not to fund the hospital with public money, as had been agreed originally, and instead pursue this funding route."
The Scottish Liberal Democrats described SFT as a "carry-on venture".
Spokesman Jim Hume said: "The SNP government would happily have us believe their spin that a cut is actually a saving.
"Presumably its claims that it has saved the Scottish public sector £131m are based on the fact that if you don't build, you don't spend the money.
"If the Scottish Futures Trust spent more time building the 'shovel-ready projects' we hear so much about rather than promoting its claim of savings then it may actually be of some worth."