Dana Petroleum oil wells go on stream in Egypt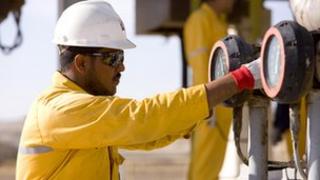 Aberdeen-based oil firm Dana Petroleum has announced that two new wells have gone on stream in the Gulf of Suez.
Dana said the Egyptian wells had brought its daily production in the country to more than 13,000 barrels.
The work is being carried out by Dana's joint venture company, Zeitco, which was formed last year with the Egyptian General Petroleum Company.
The joint venture was set up to operate two concessions in the Gulf Of Suez - East Zeit and North Zeit Bay.
Dana said production started on 25 June at the East Zeit A22 well, while the Fin-2X well was now on stream within the Lorcan development lease.
Dana's managing director in Egypt, Nick Dancer, said: "Dana is very pleased with the continued drilling success through our Zeitco joint venture company, especially with the successful completion of the challenging A22 well.
"This is a significant well for extending the economic field life of the East Zeit field, which had its first oil production back in 1985, and demonstrates Dana's commitment to invest in Egypt."