Lord Smith sets out Green Bank agenda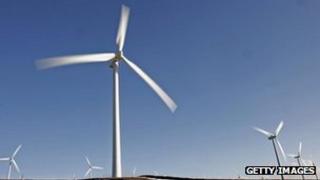 The new chairman of the Green Investment Bank, Lord Smith of Kelvin, has set out his priorities for the next three years.
The bank is being set up with £3bn of public money to help firms finance early-stage renewable energy schemes.
With its headquarters in Edinburgh, it will create up to 40 jobs in the capital but the bulk of the jobs - about 70 - will be in London.
The bank is expected to be up and running later this year.
It still needs regulatory approval from the European Union.
In his first detailed briefing on the potential of the green bank, Lord Smith laid out five priority areas - offshore wind power, commercial and industrial waste recycling, energy from waste generation, non-domestic energy efficiency and supporting the UK government's "Green Deal".
The Green Deal is designed to help households and businesses improve the energy efficiency of their properties.
However, the priority list does not include wave and tidal power because the technology is too far away from being commercially viable.
Lord Smith said there were quite a few projects already "in the pipeline".
The bank will mainly invest between £50m and £100m on schemes which promise a return of about 3.5%.
However, two pots of money totalling £180m have been outsourced to fund managers to invest in smaller waste and energy efficiency projects.
After three years the bank will have the ability to raise outside capital, and Lord Smith said by that time he hoped there would be a thriving green investment industry.
He added that if by then "lots of other institutions are now in this area, big time, competing with us, I will feel the job is very well done".
Meanwhile, the search continues for new green headquarters for the bank in Edinburgh, which will house back office functions.