Roslin Institute gets £23m for animal sciences research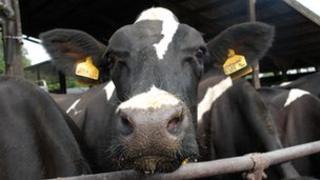 The Roslin Institute in Edinburgh has been granted £23m in funding for research in the animal sciences sector.
The cash will be used over the next five years to help improve animal health and welfare and boost livestock productivity.
Roslin hopes its genomics and genetics research can help create a better understanding of diseases in livestock.
The award was made by the Biotechnology and Biological Sciences Research Council (BBSRC).
The funding is part of a £250m investment package in UK bioscences by the BBSRC.
The award will also support a multi-million pound national avian research facility, which is a collaboration between Roslin and the Institute for Animal Health.
The centre, planned for construction on the University of Edinburgh's Easter Bush campus, will look at the biology of diseases such as salmonella.
Research will include looking at developing vaccines and treatments to improve the health and welfare of about one billion chickens raised in the UK every year, as well as ways to address the impact of poultry infections on human health.
Sector 'gains'
Roslin director Prof David Hume said the award highlighted the importance of its research to the productivity of the UK livestock sector.
"This new funding will enable us to undertake research that will lead to gains in the sector at a time when food production practices must be refined to accommodate the expanding world population," he added.
The Roslin Institute has research and development partnerships with more than 45 companies involving livestock production as well as looking at improvements that can be made in animal and human health.
It is also part of Easter Bush Research Consortium, with partnerships encompassing the Scottish Agricultural College and the Moredun Research Institute.