Number of construction firms in liquidation jumps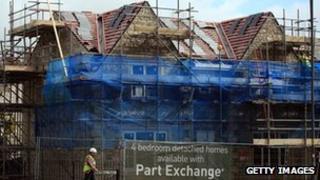 Nearly 200 Scottish construction companies have gone bust in the past year, according to new figures.
The Insolvency Service said 49 building firms were forced into liquidation in the first three months of 2012.
That brought the total for the past four quarters to 198 - 29% more than the previous 12-month period.
Wider figures showed about 40% more Scottish firms went bust in the first quarter of 2012, compared to England and Wales.
The statistics prompted the Scottish Building Federation to call for "immediate action" to prevent further job losses.
Chief executive, Michael Levack, said the rise in the number of firms going bankrupt showed economic conditions were continuing to hit the sector hard.
He added: "Today we have fresh evidence that, far from showing signs of recovery, trading conditions for Scotland's construction industry are actually getting worse.
'Investment priority'
"Politicians at all levels of government can and must do more to prioritise investment in building the homes, schools, hospitals and other facilities our communities need.
"Without a pipeline of new work, more construction firms face the real prospect of being forced out of business and many more Scottish construction jobs will be lost."
Analysis by accountants PKF found a total of 432 Scottish companies across a range of sectors went into liquidation, receivership or administration in the first quarter of this year.
Real estate, renting and other business activities accounted for 39.2% of all compulsory liquidations, while construction accounted for 15.7% of the total.
PKF said the rate of company liquidations in Scotland was now 1% of the total active register of businesses, compared to a rate of 0.7% in England and Wales.
PKF corporate recovery partner Bryan Jackson said: "We can see that Scotland continues to suffer disproportionately compared to the rest of the UK with over 40% more corporate failures than England and Wales.
"Given that over half of these business failures are related to the property sector, it is clear that the aftermath of Scotland's building boom continues to have negative repercussions."