Logistics firm InterBulk wins Siberia contract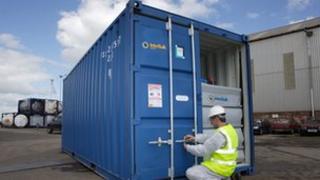 Logistics firm InterBulk Group has won a multi-million pound contract to provide packaging, warehousing and loading operations in Siberia.
The deal, worth about £8.1m over 10 years, is the company's first major step into Russia's dry bulk sector.
The East Kilbride-based firm will provide services for a subsidiary of petrochemical company Sibur at a polyethylene facility in Tomsk.
About two dozen InterBulk employees will be based full-time at the site.
Finance director Scott Cunningham said: "This is an important transaction for us, as Sibor is one of the largest petrochemical companies in Russia.
"It is a key area of growth for us geographically, along with China and the Middle East, and allows us to expand our service offering, as we will be working very closely with the customer and improving their operation at the site."
InterBulk, which has an annual turnover of about £300m, is part-owned by Clyde Blowers.
The group has been active in the Russian market for a number of years and has established an office in St Petersburg.
It has existing contracts in the country for hazardous cargos, de-icing deliveries to Moscow's airports and temperature-sensitive products.