Record number of collapsed Scottish firms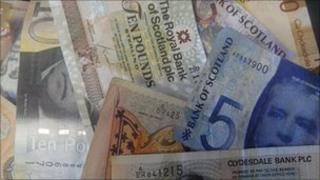 A record number of Scottish firms went bust in the first three months of this year, official figures have revealed.
Accountant in Bankruptcy (AiB) reported 385 Scottish firms became insolvent or entered receivership in the last quarter.
The number was 37.5% higher than the previous quarter and 30.9% higher than the same period last year.
The figures showed nearly 30 businesses a week went bust in Scotland in the first 13 weeks of this year.
Accountants PKF said it was the highest number in any quarter on record.
PKF corporate recovery partner Bryan Jackson said: "These figures show the real state of the Scottish economy. Many companies are simply having to close down as they cannot see an end to the economic gloom.
"There will undoubtedly be businesses which have used up years of cash reserves to stay afloat but have now found they are unable to carry on due to the relentless lack of an upturn in the economy.
"The news that the UK economy has fallen into a double-dip recession is unlikely to surprise any of the business owners who have gone bust in the first three months of this year."
Personal insolvencies
Meanwhile, AiB reported there were more than 4,850 personal insolvencies in Scotland - a 4% increase on the previous quarter.
The figure was 14% higher than the corresponding period last year.
Bankruptcy numbers fell slightly, while there was a 10% increase on the previous quarter in the number of protected trust deeds (PTDs), which are voluntary arrangements.
The number of debt payment programmes approved under the Debt Arrangement Scheme (DAS) , which allows people to repay their debt over an extended period, nearly doubled compared with the same period last year.
Enterprise Minister Fergus Ewing said: "Personal insolvencies have increased slightly this quarter due to an increase in protected trust deeds, although it is encouraging to see that, overall, bankruptcies have shown no increase compared to the last quarter.
"I am pleased to see that the Debt Arrangement Scheme continues to see an increase in debt payment programmes approved, following AiB's continuing efforts to raise awareness of the scheme and its benefits.
"The freezing of interest and charges for debtors and a return of at least 90% for creditors makes this a good option for both parties."