Newspaper group, Johnston Press, reports big loss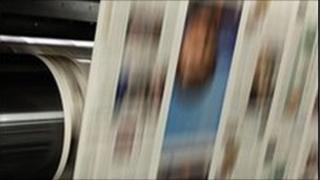 Edinburgh-based Johnston Press has reported a big loss for last year.
The company made a loss of £143.8m in 2011 compared with a small profit of £16.5m the year before.
The media group said a one-off charge dragged it into the red, and on an underlying basis profits fell by nearly 7% to £28.4m.
Johnston, which publishes The Scotsman and nearly 300 local papers, has announced a revamp of many titles and plans to improve its online service.
The company said advertising revenues had fallen by 9% last year, with income from job adverts particularly badly hit.
However the rate of decline slowed in the second half of 2011.
Trading conditions into 2012 have continued to be "challenging" for Johnston with advertising revenues down 10.6% in the first 15 weeks of this year, with national advertising being particularly depressed across the industry, the company said.
Johnston added it was "mitigating the shortfall in advertising revenues through tight operational control and cost management across the group".
Chief Executive of the group, Ashley Highfield, said: "Although the prospects for the economy remain downbeat in the short term, I believe we can return Johnston Press to being a growth business through the twin track approach of re-launching and revitalising our papers while simultaneously growing our websites, and taking full advantage of the opportunities created by technology and the changing media demands of our users to deliver innovative propositions."
Johnston which shed 11% of its staff last year cut costs during 2011 by £17m.
The group's results had been delayed while it was in discussion with its lenders and it said it had signed a new £393m debt facility.