Sales fall for most Sunday papers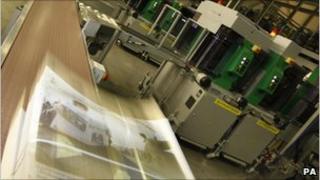 Every Sunday newspaper other than The Mail on Sunday saw its Scottish sales drop year-on-year, according to the latest official figures.
ABC circulation figures also showed sales of the Sunday Mail and the Sunday Post fall below symbolic milestones last month.
The Sunday Mail sold fewer than 300,000 copies a week in Scotland.
And sales of the Sunday Post dropped below 200,000 for the first time in decades.
Most popular Sunday newspapers appear to have lost some readers to the new Sunday edition of The Sun.
The new Sunday paper sold an average of 238,000 copies in Scotland last month.
However, it still has some way to go to win back all the former readers of the News of the World.
The Sunday Mail's sales were down 40,000 on February while the Post's declined by 15,000, according to the official circulation figures for March.
Top seller
Despite the drop, the Mail remained comfortably in front of the pack in Scotland with almost 297,000 weekly sales, while the Post sold nearly 198,000 copies a week.
Both of these papers also have tens of thousands of sales south of the border.
Scotland on Sunday fell nearly 10,000 on the year to just over 46,000 while the Sunday Herald dropped some 2,000 to 29,500.
The Sunday Times sold almost 51,000 copies a week in Scotland - a drop of close to 7,000.
On weekdays, The Scotsman's circulation dipped to 37,250 - a fall of 500 on February. This is believed to be the paper's lowest sales figure in modern times.
On Thursday, details of a shake up at the paper were announced as part of a restructuring at owner Johnston Press. Editor-in-chief John McLellan has gone on leave while he discusses his future.
The Scotsman's Glasgow rival, The Herald, also saw a drop in sales of 300 to 45,800 - almost taking it back to the low point it recorded last autumn.