Fife Energy Park to host new offshore turbine concept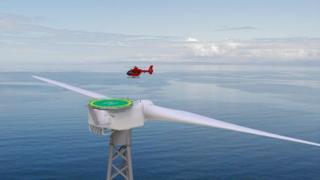 Dutch renewable energy company 2-B Energy has signed a deal with Scottish Enterprise to develop a unique two-bladed offshore wind turbine at Fife Energy Park in Methil.
The company claims the design could reduce the cost of offshore turbines by as much as 45%.
Scottish Enterprise will help to support its commercialisation.
Offshore test and demonstration facilities will be developed in Scotland, possibly by the end of 2014.
The 2-B concept bucks the trend towards more conventional three-bladed horizontal axis onshore wind technology currently being deployed offshore.
Its design significantly reduces the number of components required throughout the lifetime of the turbine, which the company claimed should result in significantly lower operation and maintenance costs.
First Minister Alex Salmond described the new turbine as an "important development for Scotland's burgeoning offshore renewables industry".
European funding
The Scottish European Green Energy Centre (SEGEC), based in Aberdeen, has supported 2-B's application for European funding, through the EU Framework Programme 7, for the development of the company's technology and offshore demonstrator in Scotland.
In January, Korean giant Samsung Heavy Industries (SHI) announced that it would to base its first European offshore wind project at the Fife Energy Park in Methil.
It said more than 500 jobs could be created in Fife through a £100m project to develop a new generation wind turbine.
The firm plans to test its new, more powerful 7MW turbine offshore at Methil before starting to take orders to build them at the site.