Bowleven sells off Gabon oil licence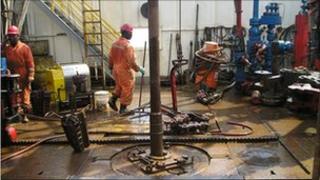 Edinburgh-based oil company Bowleven is to focus on its Cameroon operations after selling its wholly-owned Gabon licence for more than $35m (£21.9m).
Bowleven sold its 100% interest in the EOV permit to Anglo-French oil and gas firm Perenco.
The sale has boosted its net cash balance to $160m (£100m).
The proceeds will give Bowleven additional working capital to further explore the potential of the Douala Basin in Cameroon.
This week Bowleven said it was fully funded for its two exploration sites in Cameroon.
Chief executive Kevin Hart said: "The disposal of our interest in the EOV permit enables Bowleven to concentrate its resources on core areas of the business where we believe we can create maximum value for shareholders.
"The cash generated from this sale provides Bowleven with further financial flexibility to pursue the multiple opportunities identified on our Cameroon acreage."
The company, which specialises in oil and gas exploration in West Africa, was recently the target of a potential takeover by Dragon Oil.
However, Dragon said last month that it was "no longer exploring an offer" for the firm.