Dragon Oil drops interest in Bowleven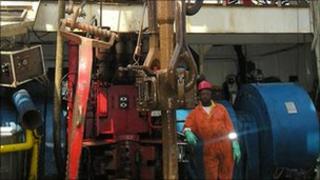 Dubai-based Dragon Oil has pulled out of a possible takeover bid for oil and gas explorer Bowleven.
In a short stock market announcement, Dragon said it was "no longer exploring an offer" for all of Bowleven's share capital.
The company gave no reasons for the move.
Dragon announced on 17 February it was considering making an offer for the Edinburgh firm, whose operations are focused in west Africa.
It was given until 16 March to confirm whether it would make an offer.
Bowleven said it noted Dragon's announcement and confirmed no detailed discussions had taken place with the company.
Dragon's principal producing asset is in the eastern section of the Caspian Sea, offshore Turkmenistan.
Late last year, Bowleven reported it had made "considerable progress" in its west Africa drilling campaign, having written down earlier unsuccessful exploration costs.
The company said it had enjoyed successful multi-well exploration and appraisal drilling off Cameroon during the year, with oil finds at all of the Sapele wells it had drilled.