Edinburgh salmon firm reports profits slump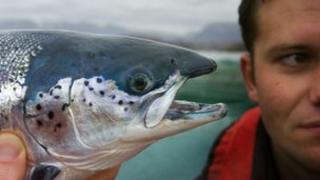 One of Scotland's largest salmon producers saw profits slump in the second half of last year in the face of higher feed prices and a worldwide fall in salmon prices.
The Scottish Salmon Company (SSC) recorded improved profits and turnover in the first six months of 2011.
But profits sank in the final two quarters, partly as a result of a rise in unit production costs.
The Edinburgh-based firm said the figures showed a "game of two halves".
For the year as a whole, pre-tax profits fell from £22.5m in 2010 to £14.4m, while turnover fell by £2.2m to £90.2m.
Overall sales volumes of 22,962 tonnes were slightly down on 2010.
The company said unit production costs rose in the second half as a result of lower volumes brought about by an imbalance in stocking cycles across its diverse sites.
'Game of two halves'
SSC chief executive Stewart McLelland said: "The year started at record levels, but the decrease in volumes in the third and fourth quarters, while anticipated, clearly demonstrate how vital it is to establish a balanced year-on-year production process.
"2011 was a game of two halves, illustrating both the company's potential and the challenges of working below full production capacity.
"Our long-term plans are to grow the business sustainably and we are investing locally to achieve the extra volumes needed to create the necessary synergies in the production process."
He added: "The demand for premium Scottish salmon globally remains strong and the long-term outlook is extremely positive as we open up new markets."