Carbon Uncaptured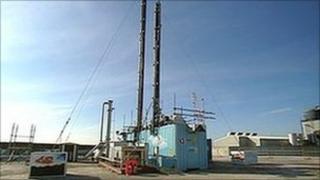 The collapse of the Longannet project in carbon capture and storage leaves some significant gaps and questions.
For instance, if not in Fife, where is it going to work?
And for how much? Perhaps the Scottish Power led business consortium was trying it on, to get more than the £1bn on offer.
The UK government says there were technological obstacles to the carbon capture and storage (CCS) project going further than the £50m design stage - £30m of that paid for by the taxpayer.
But it looks like the main obstacle was the cost of the technology.
Huge benefits
So, does the UK government really know any better what the cost is of a hugely complex new technology? If it's worth spending £1bn to achieve the technology, why is it not worth £1.5bn?
And if the £1bn has not been pauchled by the Treasury - still being available for the next stages of CCS development, we're told - can the government be sure that other projects - perhaps one in Peterhead - can be done within arbitrarily chosen budget ceilings?
This is supposed to be a technology with the potential not only to deliver huge commercial benefits to those who harness it, but also to deliver far larger environmental benefits to everyone.
By removing carbon from fossil-fuel burning, processing, transporting and burying it under the seabed, that could make it possible to rely on coal, gas and oil burning for power.
Wind blown
But if Britain continues to delay, or won't commit the necessary funding, which other countries will take the technological lead?
We've seen this sort of thing happen before to Britain's renewable energy lead, when it was one of the best at wind power.
Government support was withdrawn as it withdrew from industrial policy in the 1980s. And turbine technology now comes from Denmark, Germany and Spain, with developments also from industrial giants in Japan, China and Korea.
It's not just the current government that's to blame. Labour - including Ed Miliband when he was environment and climate change secretary - spun out the competition for years, setting deadlines that kept slipping and making it unattractive for companies to stay engaged.
Belching in Fife
There's another gap, closer to home. If it's going to prove this difficult or impossibly expensive to make CCS work, what's going to happen to Longannet? And to the plans for a new coal-burning plant at Hunterston?
The huge power station in Fife belches around quarter of Scotland's carbon emissions, it's licensed for another nine years, but what then keeps the lights on?
And how can either the UK or the Scottish government meet their legally-binding emission targets if this technology can't be made to work for the kind of money available?