Scottish rural house prices double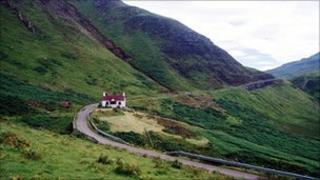 Rural property prices in Scotland have doubled in the past decade, according to analysis from the Bank of Scotland.
The average cost of a home in the country has increased from £79,104 in 2001 to £158,923 in 2011.
With a price rise of 101%, Scotland has seen a faster increase than Britain as a whole where the cost of a home increased by an average of 54%.
The biggest rise of 162% was recorded in Moray although the most expensive place to buy is in Aberdeenshire.
The average cost of a home there is £198,970 which is 25% or £40,000 more than the Scottish average.
Average prices in the Highlands, Dumfries and Galloway and Perth and Kinross are also all more than double what they were in 2001.
The cheapest rural area is East Ayrshire at £103,981.
In urban areas of Scotland house prices over the decade have increased at a slightly slower pace of 91% with the average cost of a home at £134,726.
The bank said that for first time buyers it was much more difficult to buy in the country than in the city.
The average price for those trying to get on the rural property ladders is £113,714 compared with the cost of an urban property of £105,495.
During the decade first-time buyer homes have increased by 133%.
Nitesh Patel, housing economist at Bank of Scotland, said: "Living in the countryside is an aspiration for many homeowners, attracted by the prospect of a better quality of life, open space and a cleaner environment.
"This ideal for a life in the country has come at a cost with house prices doubling in value over the past decade in Scotland - more than in urban areas.
"However, for first-time buyers average price has risen by even more, limiting their prospects for getting on the housing ladder."