Whyte had trouble in mind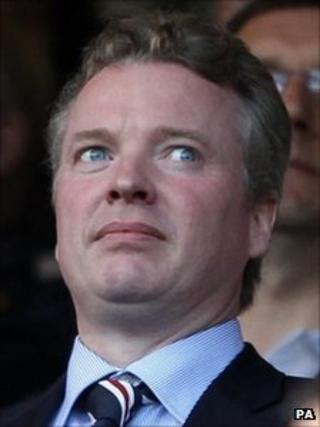 Lord Hodge has published a sort of blog, though more formally, it's known as his opinion in the Outer House of the Court of Session.
It adds yet more detail to the unfolding saga of Rangers' unhappy financial situation.
As was reported earlier this month, His Lordship ruled that Rangers was at substantial risk of becoming insolvent. That's if it loses the dispute over £49m that HM Revenue and Customs says it's owed.
This was a ruling in favour of Martin Bain, the former chief executive, who says his ousting by new owner Craig Whyte has deprived him of £1.3m of earnings to which he was entitled.
Bain's lawyer successfully argued that Rangers may be unable to pay anything if it loses the tax tribunal in November. So nearly £500,000 was ring-fenced, to ensure there's at least something left for Bain, if his claim against Rangers is successful.
What we've got today from Lord Hodge is his observation that the case for that is made by Craig Whyte himself.
Mr Whyte's takeover in May of a controlling stake (85% of the shares) from Sir David Murray was for £1.
Forgive us our debts
The meaty bit of the sale was taking over the £18m of debt built up with Bank of Scotland/Lloyds Banking Group, and - it seems - liability for two outstanding tax bills, both of which Whyte has since been contesting.
Craig Whyte said he intended to wipe out the debt, but only after the tax tribunal has ruled (plus possible subsequent appeals).
Within 90 days of a ruling in Rangers' favour, under the deal to which he's signed up, he's obliged to wipe out that debt, leaving him with rather more valuable equity.
Lord Hodge's view is that carefully constructed deal is Craig Whyte's acknowledgement that Rangers could go under.
It "shows an appreciation by Group (Craig Whyte's company) of a risk of insolvency resulting from that claim".
No surprise there. Merely confirmation, but from rather a significant source, that insolvency must have been in Craig Whyte's mind at the time of his takeover.
Approval in question
And while Martin Bain won this early skirmish in his battle with the club he used to run, it wasn't all good news for him.
Lord Hodge assessed the counter-claim by Rangers, in which it's challenging the way in which his contract was structured.
He noted that the contract updated in 2009 was for 39 months, though he's claiming a mere 12 months pay would be a reasonable pay-off.
Lord Hodge said the Companies Act 2006 prohibited such a long contract without the approval of a company's shareholders.
Did Mr Bain know if he had such shareholder approval?
According to His Learned Lordship: "Mr Ellis QC, who appeared for Mr Bain, asserted that Mr Bain did not know whether the members of Rangers had approved the contract.
"I found that surprising as I would have expected the chief executive of a public company to be aware whether or not his employment contract had the needed shareholder approval".
Ouch.