Dental sensor firm 3D Diagnostic enters Russian market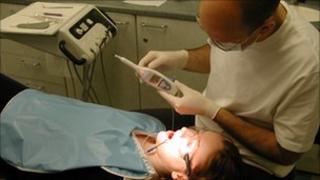 A Dundee-based dental technology firm has entered the Russian market for the first time.
3D Diagnostic Imaging has appointed an exclusive distributor for its CarieScan technology within Russia.
CarieScan Pro is a handheld device for the early detection of tooth decay, reducing the need for X-rays and fillings.
The company is registered in the Isle of Man but trades under the CarieScan brand from an office in Dundee.
The Russian distributor has been named as IT Stom, which was founded in 1992 and operates its own dental clinic and private education centre in Moscow.
Meanwhile, 3D Diagnostic Imaging said it had also signed an agreement with American company Henry Schein Inc to distribute its caries management support system in the USA.
Henry Schein serves American and Canadian office-based dental practices, as well as dental laboratories.
Last year, 3D Diagnostic Imaging announced it had raised £2.7m in a financing deal aimed at improving its manufacturing capacity and reducing the cost of making its sensors.